THE NEW AND IMPROVED FXX K BRINGS YOU FERRARI FXX K EVO 2018
Date: 2017-11-09
---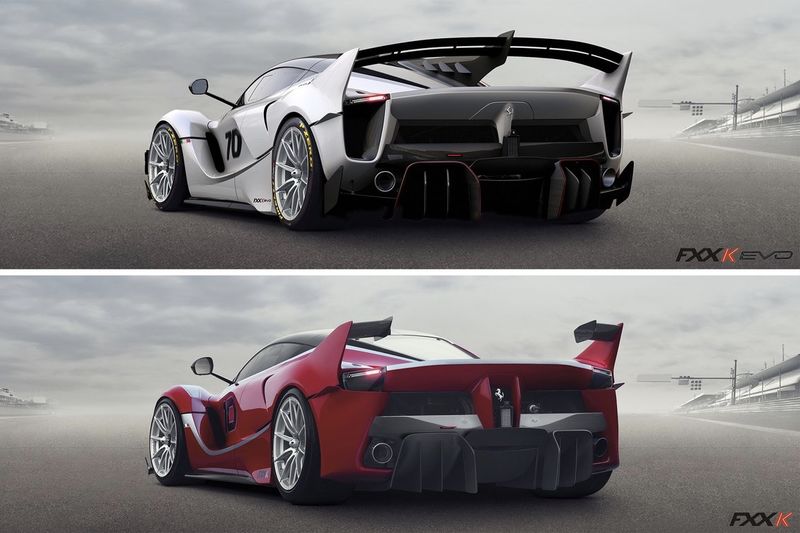 Now, this may look similar to the Rosso Corsa Laferrari, but it's definitely not! I'd say the Ferrari FXX K Evo is more of the big brother version.
Let's take a minute to comprehend the Evo's numbers; It produces 1,036bhp and over 664lb ft of torque from a 6.3-litre V12 and electric motor. The V12 alone pumps out around 850bhp and 553lb ft of torque while the electric motor adds the 187bhp. Yes, it is exactly the same as the regular FXX K but you really don't need any more power, okay.
Let's get more technical, shall we? Power is channelled through a seven-speed F1 dual-clutch gearbox to simply massive 20in, 345 section rear wheels – the front sporting 19s. The Evo produces 640kg at 124mph and over 830kg of downforce at the cars top speed. Ferrari claims the Evo is 23% up on the FXX K when it comes to downforce, and a gap of 75% more than the LaFerrari is able to muster.
How Fast is it?
Unfortunately, Ferrari hasn't revealed any acceleration or lap time data yet but I'm going to presume the speed is something around "VERY FAST". The FXX K managed to scorch a time around Ferrari's private Fiorano track in 1m 14s (which, by the way, is 5 times faster than the LaFerrari road car (just saying), and taking into account that with the Evo's additional downforce and trick aero, Top Gear suspects the speed could "dip into 1m 13s".
The car might even be lighter than its younger brother, even with that new wing but, again, Ferrari has not stated anything.
Unfortunately, because Ferrari only briefed us on the 'details' on the 30th of October this year (2017) we still cannot tell you how much this car will cost or even how many will be made. Stay tuned folks!