2018 BENTLEY CONTINENTAL GT – THE QUINTESSENTIAL GRAND TOURER
Date: 2018-02-27
---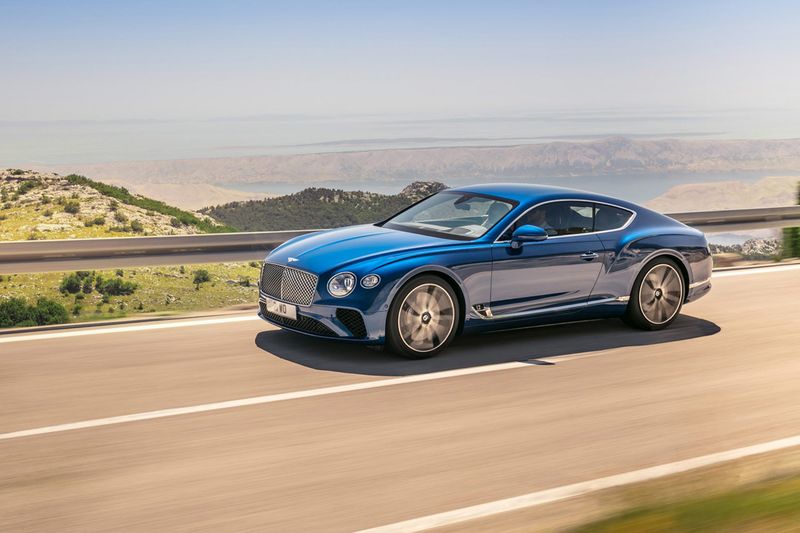 It wears the badge, it's got the doe-eyed headlights and a W12… but that's about it. This is Conti V2.0 and it is pretty much all-new.
Based on the same platform as the Porsche Panamera, new Continental gets a mixed-materials skeleton (mainly aluminium and steel) clothed in big sheets of more aluminium. In fact, it's all aluminium, apart from the boot lid, which is only composite because that's where all the aerials, receiver-ware and other things similar that don't like to be sheathed in metal are.
With a completely new 6.0 litre, twin-turbocharged W12 engine, a step-change in technology and a truly stunning design language, the new Continental GT is unmatched in its class. This Bentley GT coupé is the quintessential grand tourer – phenomenally powerful, beautifully designed and exquisitely crafted. The previous-gen Continental was, in most cases, quite pretty, but it was a bit of a brick: the new one is lower, more muscular, neater and less bulky. More fitness model than weightlifter unlike its predecessor. The panels are 'superformed' – a process where aluminium sheets are heated to 500-degrees and then formed over a buck using pressurised gas rather than a stamp – and the results are quite spectacular.
Just look at those side creases. In fact, one of the big joys of the GT is the rear haunch line, because it undercuts slightly and is nicely razored: it catches the light like there's no tomorrow to show off its exquisite design. Just don't mention the panel-beating cost if you reverse it into something.
It's a tiny bit lighter than before, but to be honest, it's not that big a deal in percentage terms; there's a lot of stuff gone back into the architecture after the initial hardware weightloss. With that said, Bentley's Continental GT's haven't always been the lightest feather around in any case.


It's still got a daft W12 though?
Yes, and …er… no. There's still a W-shaped 12-cylinder up front (like a pair of V6s fused together), but the engine has been severely reworked. It's now got twin-injection (separate systems for both high and low-pressure – good for particulate management, power delivery, refinement and the pension funds of injector manufacturers), twin-scroll turbos, variable displacement (shutting down one side of the engine in gears 3 to 8 below 3,000rpm), start-stop, and active engine mounts. All that translates to more l/100km.
What it means to us, is 626bhp or 467kw (up 7.5 percent) and a whopping 25 percent more torque, available in less than a third of the time versus the old engine. This is all excellent news. Because it means that the GT now hits – in 'standard' form, don't forget – 0-100km/h in 3.7s and 333km/h top speed, with in-gear acceleration that'll push your eyebrows past your hairline.
I'm also of the opinion that there's a fair amount of headroom in this design. And if they keep up with their past reputation in drastic power increases as the new models roll in year after year – 850bhp in a couple of years, anyone?