VIDEO: 2018 SPYKER C8 PRELIATOR SPYDER
Date: 2017-11-29
---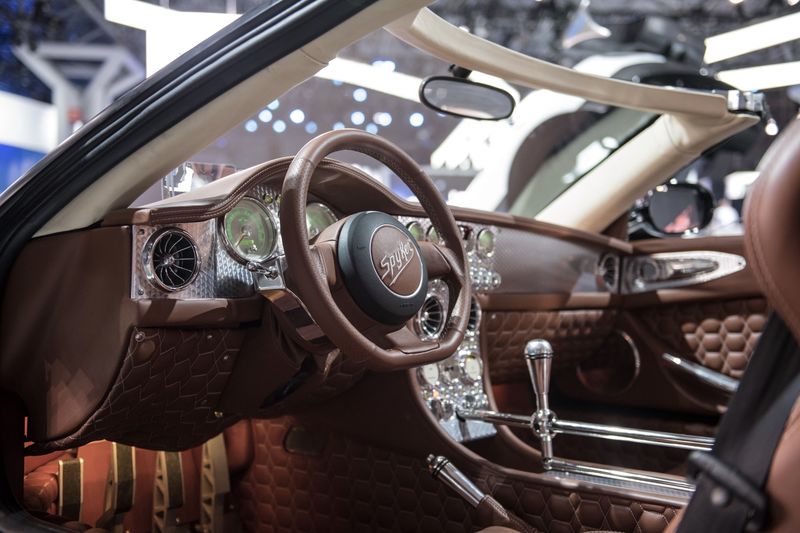 Spyker owns the unique emblem of a propeller with a wheel that signifies their days when they built fighter planes in the early 1900's for WW1. They originally started building bodywork for Benz engined cars in 1898 however they experienced their first major highlight when they delivered the "Golden State Coach" to Queen Wilhelmina of the Netherlands in 1901 which is still used for ceremonial Dutch events today.
Spyker always had the concept of building cars that look like airplanes without wings. They accomplished this by beginning with the exterior of their car, which features the turbine style wheels and the embedded 'Preliator' word meaning 'Fighter' or 'Warrior' in Latin. They give this car a complete fierce fighter-jet look with an afterburner at the back for tail lights and the exhausts that have the words "Nulla Tenaci Invia Est Via" which translates to "For the tenacious no road is impassable". The magnificent interior features something no one else has ever manufactured, the C8 Preliator Spyder is a completely bespoke car with all leather and metal. The controls feature no modern display screen as this emphasizes the feel of an airplane cockpit. However, you do have the option to operate your favorite music apps, including Spotify and Apple Music, with simple, memorable hand gestures via the integrated controlled Head-Up Display which can be hidden in the dash. The system brings entirely new mobile- and digital experiences to Spyker C8 Preliator owners.
The New Spyker C8 Preliator Spyder features its most significant technological advancements since 2000. They have ditched the old Audi supplied engine used in previous versions of its C8 supercar and replaced it with a Koenigsegg built V8 for the new C8 Preliator Spyder. The naturally aspirated, 90-degree 5.0-litre V8 is said to produce 600 horsepower and 442 pound-feet of torque. The 6-speed manual transmission will be the only gearbox on offer. Spyker warns of an expected improved performance and a top speed of 201mph.
Production of this gorgeous Spyker will be limited to only 100 units and will start in mid-2018 with a starting price of $430,000 – which excludes the custom tailored, five-piece Louise Vuitton luggage set designed for the car.