VIDEO: MODIFIED LS6-POWERED 1974 DATSUN 260Z
Date: 2017-11-17
---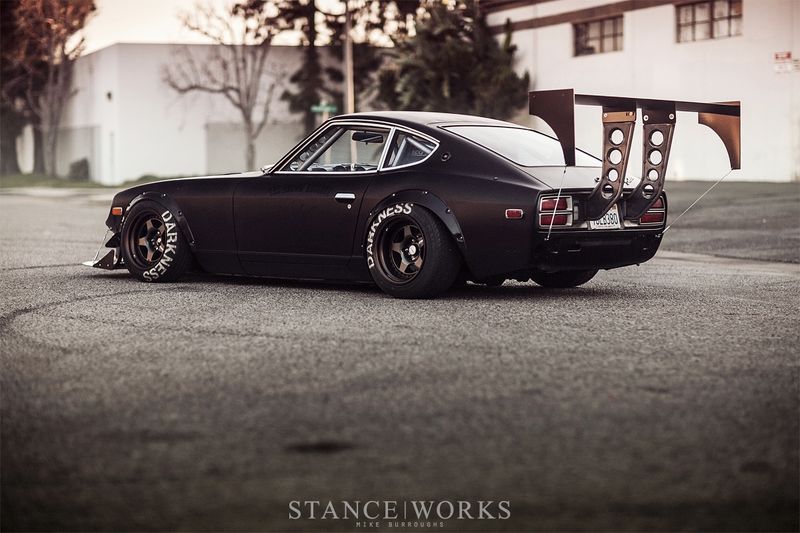 A wild project built by Riley Stair, who is known to not care about the purity of keeping the engines and chassis of his cars in the same genetic line. He once installed a 12-valve Cummins diesel into his '49 Chevy shop truck and dropped a 2.5L inline-six into a late '60s Merc Sedan, you could say he just enjoys building cars.
Of course most would cringe at the idea of taking a knife to a 260Z, however, Riley had no qualms as the community and social backlash was likely to be the smallest obstacle in his way. He started from the inside and worked his way out, the Sparco Evo Plus seats were way too big to fit in the car so he had to modify the floor pans for less height restriction, and with safety in mind, Riley tied the seat mounts to the cage which encircles the innards and interior of the car, with door bars claiming most of the room inside the cockpit it made it fairly difficult for the not-so finesse to slide in and fit comfortably inside. Despite the cage it still has a stock dash shape and console, working heat, a carpeted floor, and doors with factory style panel and roll up windows.
The car originally was bought with 38,000 miles from a little old lady that had set the car aside in '89 when a head gasket blew, it sat in storage because the plans for her to restore it halted as she couldn't gather the funds to fix it. The quarter panels had slightly rotted away but that didn't matter to Riley as he was planning on flaring the fenders anyway, the car was completely rust free which was a lucky start. With less time and money spent on repairs, Riley had more time and money to play, fun stuff such as putting the 5.7 litre, naturally aspired, all-aluminium V8 with 400+ horsepower worth of Gen III Chevy small-block under the hood. With a brilliant exhaust note, some cam noise and lots of power, the Chevy LS engine, that was actually an LS6 taken out of a '02 Corvette Z06, was the perfect motor for the car, and for Riley. He also rebuilt the top end to make a bit more horsepower, starting with a Fast 92mm intake and throttle body (ultimately getting rid of the throttle-by-wire set up), and SLP 85mm mass air-flow sensor and a Fast 36-pound injector feed the machine. He added the highest-lift cam possible in a 5.7L LS by adding a Vengeance cam with 0.604/0.608 lift at 0.050. Comp Cams trunion rockers, dual valve springs and retainers, chrome-moly pushrods, MLS head gaskets and ARP head bolts. The dual 3-inch exhaust is then fed by handbuilt long-tube headers with 1 7/8-inch primaries.
Riley went for the racecar feel, adding the bucket seat with harnessing and tubing all around, but he didn't want to have to put on a helmet and firesuit to drive it, he still wanted the feel of a classic that he could drive to work with. I'd say, he bridged the gap between street car and race car. The wing though is definitely nothing less than astoundingly eye-catching, it is a genuine wing used in GT1-class racing competition, it positively works – perhaps a little too well. Riley actually had to build a front splitter just to prevent the nose from getting too light at triple-digit speeds. He also felt the need to tunnel the headlights on his Z because it was something his great-grandfather did to his '49 Mercury back in the day.
Riley Stair had an idea, a concept, and he executed almost everything himself. Incase you haven't heard, he enjoys building cars.