VIDEO: THE ULTIMATE 4X4 SKATEBOARD
Date: 2017-11-28
---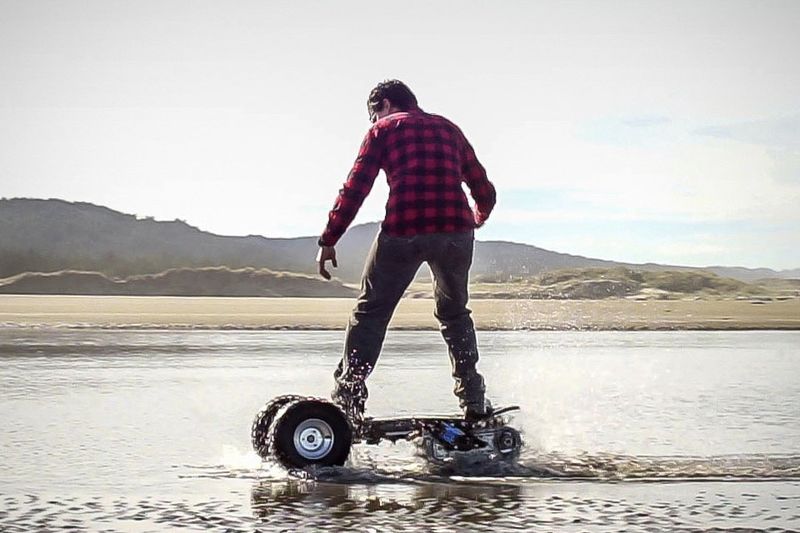 So, it may not be concidered an actual vehicle but anything this cool with a motor get's us pretty excited.
In the way of innovation and advancement, skateboards are not far behind flying cars and bikes. Flux Design Co. has now created an electric board that can travel on different terrains.
The Track1 e–board has a 5 horsepower motor and can travel over snow, dirt, sand and gravel. It can reach speeds of 20 mph and travel up 50 degree gradients. The board is fitted with oversized ATV-grade wheels up front that look like they've been stolen from a mini monster truck, the rear has a tank tread that creates the experience of riding a mixture of a skateboard and a snowboard. This also means that the board has incredible traction so it can be used on slippery terrain and even in the rain. It weighs 60 pounds and has the option of fitting handlebars onto the carbon fiber body if the rider doesn't feel like riding free standing. It is small enough to fit in the back seat of a car, yet powerful enough to tackle tough terrain.
It is fitted with rechargeable batteries that give the Track1 a range of 12 miles. For those who would like to do some night riding, all you have to do is switch on the LED lights at the front of the board.
The founder of Flux Design, Michael Menendez, commented on the Track1 saying that: "We're proud to have created the world's first all-season tracked e-board, the Track 1, which was built to do what no other board could do – ride serious terrain. We wanted to create the most versatile and compact all-terrain board to simplify experiences such as having fun in the fresh snow, trails, sand and dirt."
Track1 is looking for funding through a crowdfunding campaign on Indiegogo. The board is being sold for $1 995 at a 33% discount, not exactly a budget skateboard but pretty cool nonetheless.
Check it out in action in the video below.