Home
/
Automotive
/
Cars
/ Video: The Hennessey Velociraptor Is More Powerful And Features More Wheels
VIDEO: THE HENNESSEY VELOCIRAPTOR IS MORE POWERFUL AND FEATURES MORE WHEELS
Date: 2017-10-31
---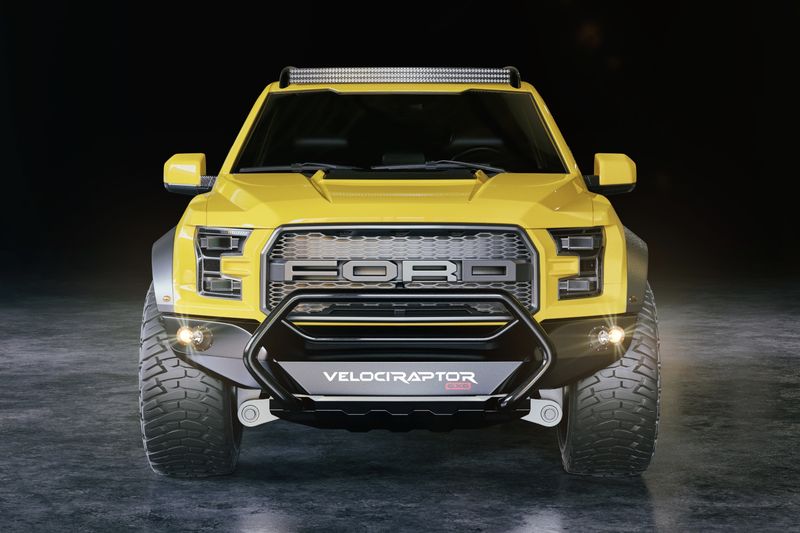 The VelociRaptor 6X6 concept starts with a price tag of $295,000. For that chunk of change you get the base 2017-2018 Raptor 4-door truck with a set of 6X6 locking rear axles, upgraded Fox suspension, upgraded 20-inch wheels and off-road tires, special front and rear bumpers, rollbar and LED lights.
The 600+ horsepower upgrade includes uprated twin turbochargers, stainless steel exhaust modifications, upgraded front mounted air-to-air intercooler and plumbing as well as a re-tuned factory computer.
Other options include Brembo front & rear brake upgrades, bespoke interiors, electronic upgrades and, if that's not enoiugh, armouring systems will also be available.
"Our VelociRaptor 6X6 is pure aggression on wheels – all six of them", said Hennessey. "The new 2017 Raptor is going to be one of the best all-around trucks ever built. We are excited to help take it to the next level both in terms of performance and exclusivity".
For those who order ladies steaks and 'don't need' a 6X6, Hennessey will also be offering its $22,500 VelociRaptor 600 twin turbo upgrade to owners seeking more power and performance from their standard 4x4 model too.