2018 SUBARU WRX AND WRX STI – THE LAST OF LAST?
Date: 2018-03-02
---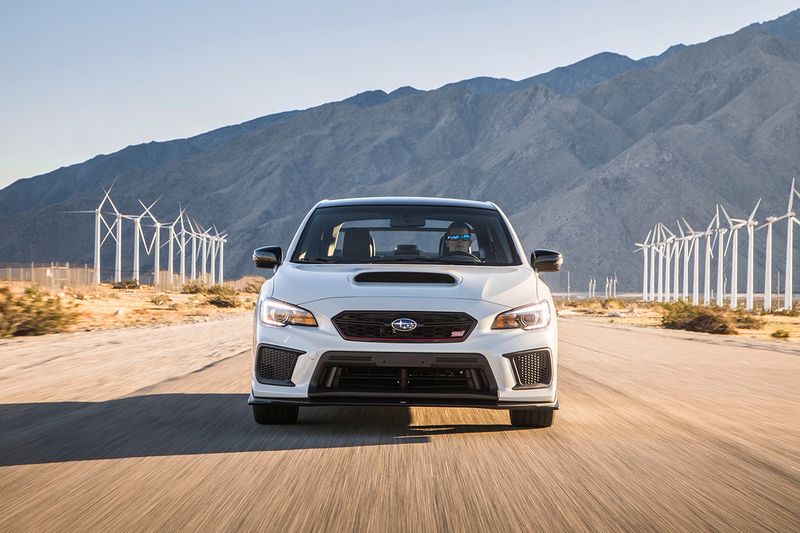 It has been roughly three years since we first laid eyes on the fourth-generation WRX, which means it's time for Subaru to introduce a refreshed version. The 2018 WRX and WRX STI receive minor updates, highlighted by new front fascias, revised suspensions, 19-inch wheels on STIs, upgraded Brembo brakes, and an available Performance package for the WRX. But, as previously reported, the cars will continue to live on the existing platform, not the new Subaru Global Platform that made its debut on the redesigned 2017 Impreza sedan and hatchback.
Even with the changes, the 2018 WRXs look familiar. The front ends have new grille designs, larger air intakes, and wider mouths, while WRX Limited and STI models also have redesigned LED headlights that swivel in turns. Behind those nipped and tucked faces, the front structure was re-engineered for better collision performance.
The hearts of the hot Subaru's remain the same. The WRX retains its direct-injected, turbocharged 2.0-litre flat-four that makes 268 horsepower and 258 lb-ft of torque. A six-speed manual transmission is standard; a CVT is optional. The manual has a new synchro design aimed to reduce friction and improve feel, and Subaru claims the clutch has a smoother takeup. The WRX STI keeps its turbocharged 2.5-litre flat-four that makes 305 horsepower and 290 lb-ft of torque.

Chassis Tweaks
On both models, the suspension tuning and the electrically assisted power steering have been revised. The STI's Driver's Control Center Differential (DCCD), the heart of its all-wheel-drive system, switches to a purely electronically controlled limited-slip diff, which Subaru claims makes it smoother and quicker to respond. Previously, the system used both mechanical and electronic means to govern its torque distribution.
The brakes on the STI also have been upgraded. The yellow-painted Brembo monoblock callipers have six pistons in the front and two in the rear. Larger-diameter rotors are cross-drilled for better heat management, and new pads cover more surface area for better fade resistance. The STI rolls on 19-inch Y-spoke aluminium wheels wrapped in 245/35R-19 tires.

Bigger Screens
Interior quality and safety features on the WRX have been updated, too, according to Subaru. Pleasing rally hoons the world over, there are new rear armrests with cupholders, redesigned interior door grips, and improved materials. To make the cabin quieter, Subaru changed the door seals, used thicker side-window glass, and added foam in the windshield header.
In WRX Limited models, the former 4.3-inch infotainment display has been tossed out in favour of a high-definition 5.9-inch screen, while the unit in the WRX Premium grows from 6.2 to 7.0 inches. WRX Limited models equipped with Subaru's EyeSight camera-based safety assists add new technologies called Vehicle Hold and EyeSight Assist Monitor (EAM). The EAM setup projects EyeSight alerts and notifications onto the windshield, similar to a traditional head-up display. Vehicle Hold replaces Hill Holder and Hill Start Assist and can hold the car at a stoplight or on an incline.
A new optional Performance package for the WRX Premium includes eight-way power Recaro seats, red-painted brake callipers with Jurid brake pads, and a double-spoke design for its standard 18-inch wheels but deletes the sunroof for weight savings.
We expect pricing for the 2018 Subaru WRX and WRX STI to be announced shortly before the cars arrive at dealerships in a few months time.