PORSCHE 911 TURBO GTSTREET RS BY TECHART PUMPS OUT 770BHP
Date: 2019-02-27
---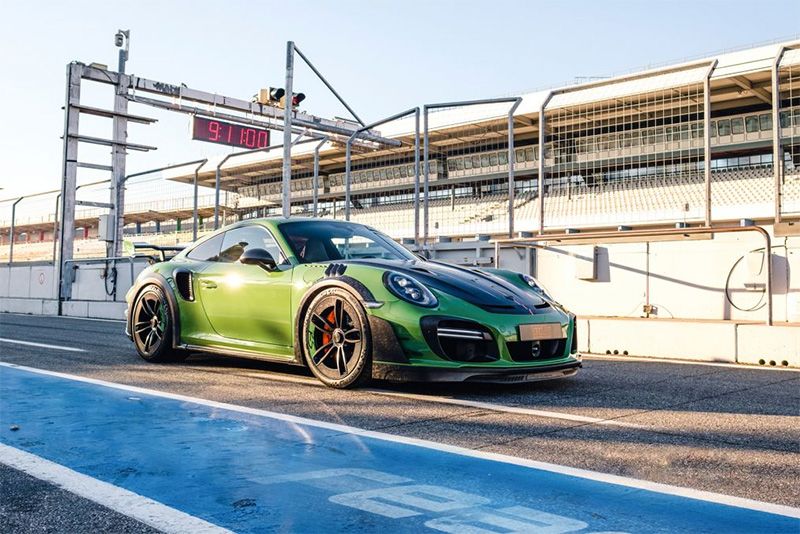 TechArt has installed a new body kit, tweaked the interior and given a power boost to the Porsche 991.
2 911 Turbo, how does 770bhp sound? We thought you'd like it.
The Porsche 991.2 911 Turbo does 0-62mph in under 3 seconds, which is considered fast in most people's terms, but TechArt are not most people and they wanted faster... so they've installed their Powerkit upgrade and created a 770bhp, 678lb ft of torque monster called the GTstreet RS.
The extra 190bhp over the standard car – which is more power than the GT2 RS, by the way – is attributed to new VTG turbochargers and new titanium valved exhaust system that allows the uprated 6cyl to breathe more freely. The titanium exhaust also reduces weight, as does the lightweight Corning Gorilla Glass that replaces the standard fare. Together, these changes translate to a 0-62mph in 2.5 seconds and a top speed of 211mph.
On the outside, a plethora of "forged carbon fibre" components creates more downforce while helping direct air for cooling the uprated engine and brakes. There are new headlight surrounds, front canards, reformed air intakes, side skirts, a new rear diffuser, ram air scoop and active rear wing, while the forged carbon fibre bonnet features NACA air inlets for additional brake cooling. Even the new centre lock wheels feature aero rings for reduced drag.
The German tuner has taken a new "hard-wearing, fireproof material comprised of wool, leather and Alcantara" to the interior for a "more luxurious, high-end feel." There's GTstreet RS stitching on the seats, a 6-point racing harness and colour-matched door-pulls among a variety of other customisation options for their clients. They can even option personalised paint colours for items such as the drive mode switch, air vents and PDK gear selector.
For that truly exclusive touch, each vehicle receives a designated GTstreet RS number on the bonnet in gloss black and a badge certifying the car's authenticity. Clearly, the GTstreet RS will not be confused with a standard 911 Turbo then.
The Geneva motor show this year will see the official reveal of the rather substantial £125,000 modification package... Oh... you thought the base car came with it? Haha... nope, that'll you'll have to buy separately.