THE LAMBORGHINI LM002 IS A LUXURY SUV RACER
Date: 2017-10-20
---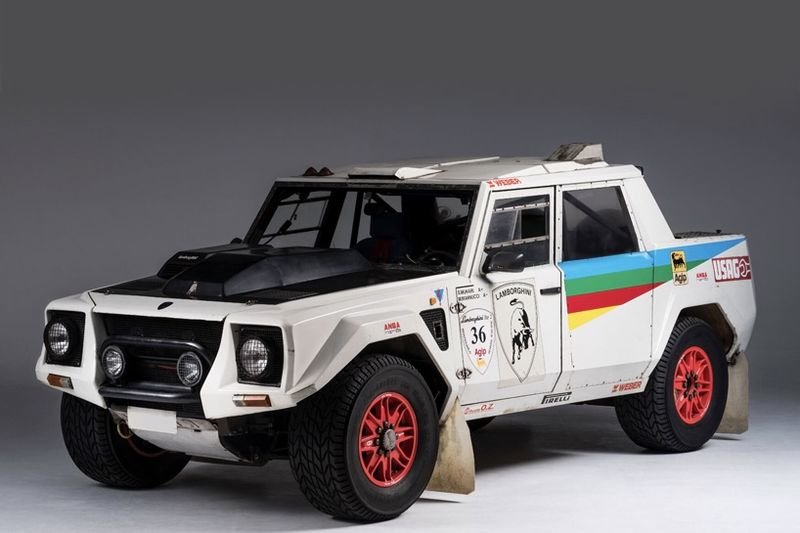 In the 80's, Lamborghini announced its LM002 and that it would participate in the most famous and competitive rally of all time: The Paris-Dakar. Legendary driver, Sandro Munari, would be at the helm along with his trusted navigator, Mario Mannucci.
The Lamborghini LM002 was completely overhauled for the race: the V12 engine was boosted from 455 to 600 horsepower and the car was stripped of any trims that might weigh it down. Everything was made lighter using components derived from competition cars. Out went the luxurious interiors and the radio, and in came a roll bar and five-point safety belts, as well as an advanced navigation system. The new windows were made of plastic, and so too was the new, decidedly more capacious fuel tank, which was based on racing models.
The suspension and braking systems were redesigned to improve response and make it even more reliable, and the front windows were like those on other racing cars. The spare wheels were in the rear well and the manual controls for the four-wheel-drive system went into the tunnel console. The rear seats were taken out and two racing seats were placed in front.
Once all these modifications had been made, the first racing car produced in the Lamborghini factory was ready to rumble!
A powerful car with incredible endurance and stunning off-road performance was born, nevertheless, the special version of the LM002 never flashed by in the Paris-Dakar rally due to the lack of sponsorship.
But in 1988 it could be admired racing off-road in Greece, where it remained in front until it had to withdraw, just a few miles from the finish. From fashion streets to desert tracks, the luxury SUV racer knew no boundaries.