VIDEO: THE IRON KNIGHT - THE WORLD'S FASTEST TRUCK WITH 2400HP!
The Iron Knight was custom built to take the title of the 'World's Fastest Truck', and that's exactly what the 2400hp/6000Nm beast officially became at a test track in northern Sweden recently....
about 1 year ago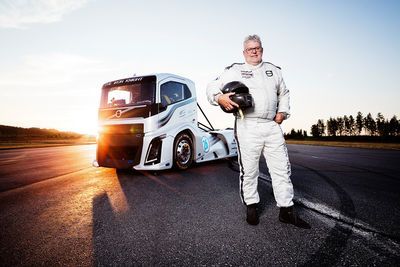 VIDEO: FURIOUS DAD DESTROYS AN AUDI WITH A BOBCAT FRONT LOADER AFTER CATCHING HIS YOUNG DAUGHTER IN THE CAR WITH A BOY!
We don't know the whole story, but there's a chance this dad is overprotective and slightly overreacting by destroying a perfectly good car....
about 1 year ago
VIDEO: BRYCE MENZIES MADE HISTORY BY JUMPING HIS OFF-ROAD PRO 2 TRUCK 379.4 FEET OVER A NEW MEXICO GHOST TOWN TO SET A NEW TRUCK DISTANCE RECORD!
The project, entitled "Bryce Menzies New Frontier powered by Pennzoil® Synthetics," saw Menzies launch ramp-to-ramp in his Pro 2 (two-wheel drive) race truck, soaring past the official Guinness World Records distance record of 301 feet as well as the unofficial record of 332 feet. An...
about 1 year ago